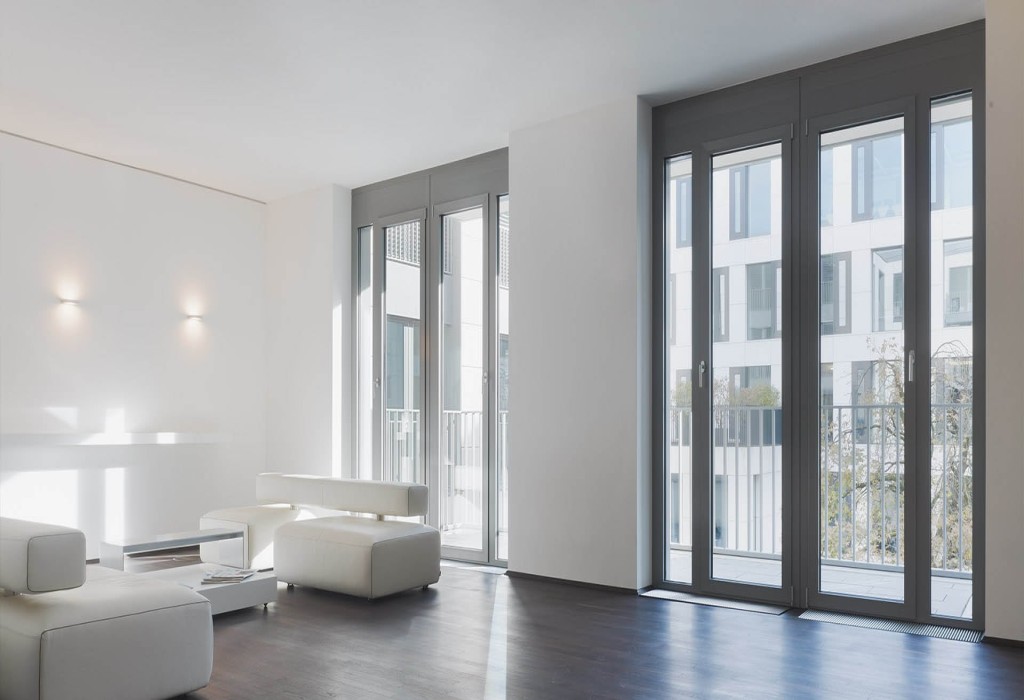 Create bright and open spaces for more comfortable living; improve your burglary protection and the energy efficiency of your home.
Energy-efficient access to nature
Do you have high standards for thermal insulation and safety? Then heroal's elegant and durable French doors are made for you. heroal French doors meet the strictest passive house requirements and are also suitable as burglary protection for a safe home. With heroal French doors, you can create a comfortable living environment with bright, open rooms. heroal French doors are made of recycled aluminium. This not only guarantees maintenance-free use and a long service life, but also gives you architectural freedom. We will show you why French doors by heroal are "Simply Better."
What makes heroal French doors stand out?
Unlimited design possibilities with French doors
French doors by heroal are available in a variety of designs. Depending on your requirements, single-leaf or double-leaf French doors are available with different opening types. You also have the option of adding matching side panels or transom windows to your French door. Thanks to our industry-exclusive bending service, we also offer our French doors in special shapes such as rounded or pointed arches. Ordering doors in different dimensions and special sizes is no problem.
heroal French doors also have a barrier-free threshold, which makes them accessible for the elderly and disabled. Thanks to our in-house and industry-leading powder coating, heroal French doors stand out for their premium, highly weather-resistant surfaces. Choose from a wide range of RAL colours with different degrees of gloss for your heroal French doors. You can also choose different colours for the interior and exterior of your French door. Customise your heroal French doors to match your architectural plans. Enjoy a large selection of French door handles in looks such as silver-anodised, dark bronze-anodised or a customised colour scheme. There are practically no limits to the design possibilities !
---
Energy-efficient and safe French doors to meet any requirement
With aluminium French doors by heroal, you do not have to make compromises in your home's security and thermal insulation. heroal French doors achieve the highest thermal insulation values, which also meet the strictest passive house standards. Thanks to the modular design of the French doors, U-values can be realised for any energy requirements, from old buildings to passive houses. With heroal French doors, you can feel safe with effective protection against wind, weather and burglary. Burglar-resistant heroal French doors offer certified burglar protection and depending on the installation type can meet security requirements up to resistance class RC 3 – in combination with heroal security shutters , they can even achieve resistance class RC 4. heroal uses aluminium for your French doors, so you can rely on a very long and low-maintenance service life, even with intensive use.
---
The advantages of heroal French doors at a glance
French doors by heroal stand out for their comfort, energy efficiency, burglary resistance and sound insulation and feature an elegant design for demanding architectural requirements. See for yourself. We would be happy to help you find the French doors that best suit your needs. Give us a call, visit our specialist partners and find your garage door inspiration.
easy to clean and low-maintenance
effective protection against wind, weather, noise and burglars
barrier-free threshold available
automatic and smart home compatible
safety and quality certified by ift-Rosenheim
individual design for your home
available up to passive house standards
---
Further options for your balcony or patio door
heroal sliding doors stand for maximum transparency and a special interior ambiance. Learn more.
Sliding doors >
---
Find the right heroal specialist
Click here to search for a specialist partner
Search >
---
Further reading for your interest
---
over 3,500 specialist partners worldwide
products with tested quality
family-run company with a long tradition
made in Germany
personalised design
comprehensive range of services
superior technical solutions
---