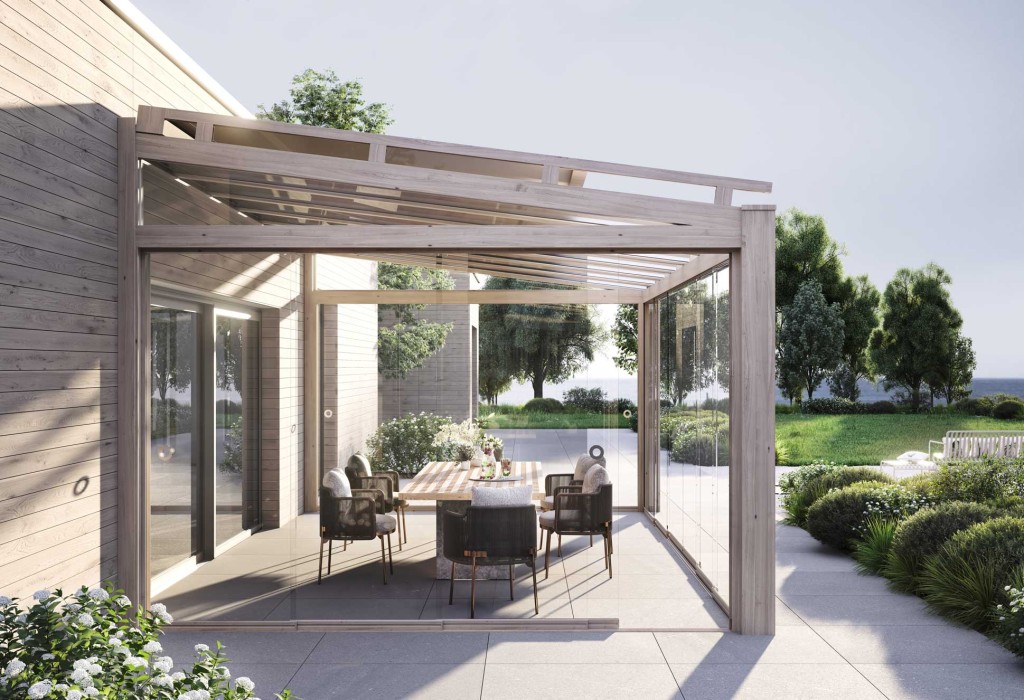 Create your own exceptional, all-weather space outdoors.
Get closer to nature with heroal patio canopies made of aluminium
There's no place like outside – with the right protection: an aluminium patio canopy by heroal turns your patio into an all-weather open-air living-room, where wind and rain can do you no harm. Furthermore, the integrated sun screens offer optimal protection against heat, glaring light and prying eyes.
Thanks to the wide range of design options, you can adapt both the colour and the size of your roof to match the look of your house and your patio. Combine your patio canopy with a moving glass wall system, fixed glazed panels or shading systems, like horizontal or vertical blinds. You can easily add these accessories when needed, since heroal's components are also suited for a retrofit at a later date. The especially harmonious design is yet another outstanding feature – all accessory systems for the patio canopy are perfectly matched.
Patio canopies by heroal are exclusively manufactured in Germany and offer first-class quality "Made in Germany".
What makes heroal patio canopies so special
More living space with a heroal patio canopy
Why you should cover your patio – The advantages of a patio canopy
More than just a roof: heroal's patio canopy made of aluminium offers numerous advantages and opportunities to more extensively use your garden more extensively all year round, thereby extending your living space.
---
Planning a patio canopy – What do I have to consider?
The purchase of a patio canopy improves your quality of life. To be able to enjoy the benefits of your patio canopy as long as possible, it should be well-planned. When you have first ideas as to what you want, please feel free to contact a heroal specialist partner without obligation, and get professional advice tailored to your needs. Please find below an overview of the most important aspects of planning a patio canopy.
---
What is the right patio canopy for me?
First-class materials, sophisticated technical solutions and a wide range of design options are unique features characterising aluminium patio canopy made by heroal. With patio canopy systems by heroal, you can add additional valuable living space and enjoy your patio year-round, regardless of the weather. heroal offers you the ideal roof for every requirement – e.g. individual designs for special architectural demands, such as L-shaped patio roofs, or roofs with versatile accessories. Find the perfect patio canopy now, meeting your individual needs.
---
Patio canopy options – Configuring patio canopies
Configure your patio canopy the way you want. heroal patio canopies are tailor-made to meet your individual demands; their functions can be further extended by adding fixed glazed panels, moving glass walls, blinds as well as vertical protections against sun and prying eyes.
---
Patio canopies made from aluminium or wood? – True to detail surface looks with heroal SD
---
Patio canopy including installation
---
---
Fields of application for patio canopies
Customised patio canopies by heroal are suited for versatile fields of application. They are not only suited for private residential buildings, aluminium patio canopies also offer numerous advantages for non-residential uses, e.g. hotels and restaurants.
---
Product features of heroal patio canopies
heroal patio canopies stand out for their premium look, stability and durablity. We would be happy to advise you on the designs options and functional possibilities for your patio or balcony canopy. Give us a call, visit our specialist partners and find your garage door inspiration.
protection against wind and weather
individualised design possibilities
can be expanded later on
weather- and colour-resistant
robust and easy to clean
---
Find the right heroal specialist
Click here to search for a specialist partner
Search >
---
Further reading for your interest
---
over 3,500 specialist partners worldwide
products with tested quality
family-run company with a long tradition
made in Germany
personalised design
comprehensive range of services
superior technical solutions
---